Building bridges on Liberation Day
Guests on the virtual podium
Wayne Laufert (Baltimore, USA) | KVML Baltimore chapter | vonnegutbaltimore
Jan-Christian Petersen (Husum, GER) | Humanistische Initiative | humini.de
Rüdiger Hesse (Owschlag, GER) | Combat Veteran e.V. | combat-veteran.org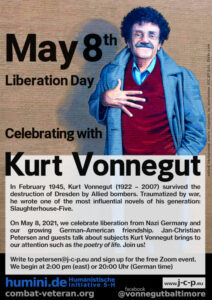 What is Liberation Day?
On May 8, 1945, the German Wehrmacht surrendered, which marked the end of World War II in Europe. It was a turning point in our history that paved the way to a humane and democratic society. On May 8, 2021, we celebrated liberation from Nazi Germany and our growing German–American friendship.
Background:In 2020, Liberation Day became a day of remembrance recognized by the government of the German state of Schleswig-Holstein. All 20 events can be found on www.achter-mai-sh.de
Celebrating with Kurt Vonnegut
In February 1945, Kurt Vonnegut (1922 – 2007) survived the destruction of Dresden by Allied bombers. Traumatized by war, he wrote one of the most influential novels of his generation: Slaughterhouse-Five.
Jan-Christian Petersen and guests talk about subjects Kurt Vonnegut brings to our attention such as the poetry of life. Join us! Listen or participate.
Please visit the YouTube channel for more information.
Supporters
American Humanist Association, German Humanist Association (HVD), Bürgerstiftung Schleswig-Holsteinische Gedenkstättenn, Kurt Vonnegut Museum and Library