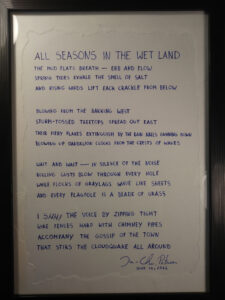 Welcome to my Poetry Shop
I create 20 handwritten copies of each poem. These are available in three price categories. You can support my art by choosing the price category that suits you most.

The first writing is the original and considered to be the most valuable. Copies 2 to 4 are not for sale, just for exhibitions. Copies 5 to 10 are in the 2nd price category, copies 11 to 20 are in the 3rd.
How to order? – Send me an e-mail with your poem(s) of choice, chose a price category and add your address for shipping. Chose between two payment options: PayPal and bank transfer. Write to petersen(at)j-c-p.eu.
Next, you will receive an invoice attached to an e-mail. Depending on where you live, shipping will cost between €4.00 and €7.20 extra. When you make the payment, we have a deal. After transferring the money, I will send you the poem(s). Please note: The envelope has a tracking number, the poem(s) will NOT be folded and come without frame. All prices on this website include taxes.
Click the titles below to read the poems
Category 3
Copy No. 11 to 20
Category 2
Copy No. 5 to 10
Category 1
No. 1 (original)