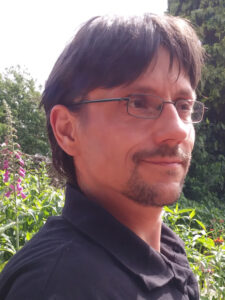 As a poet, writer and journalist, I offer articles for newspapers and magazines. I am specialized in (international) human and cultural affairs and in people. Read my English blog here.
Literature and poetry are my effort to connect even more people by writing. I offer publishing rights. You can book me for readings and talks.
As a media designer, I create websites for small companies, the self-employed and associations. I design books and advertising media (covers, layouts, posters, flyers, brochures, programmes).
Bristle Brush Path (or The Field Path) – a poem
This poem is an adaptation of my German original. It is available in the poetry shop as a handwritten copy. There, please read also the poem "The Old Town". It contains observations from the oldest part of my hometown Husum, North Frisia, Schleswig-Holstein, Germany.
100 Year of Kurt Vonnegut – Celebration
I gave an English-language talk together with Vonnegut biographer Charles J. Shields and Kurt Vonnegut's grandson Max Prior who read from his grandfather's works. The German-American online event was organized by the Amerikazentrum in Hamburg, Germany, and by the Kurt Vonnegut Society, USA.
You can book me for readings and talks: petersen(at)j-c-p.eu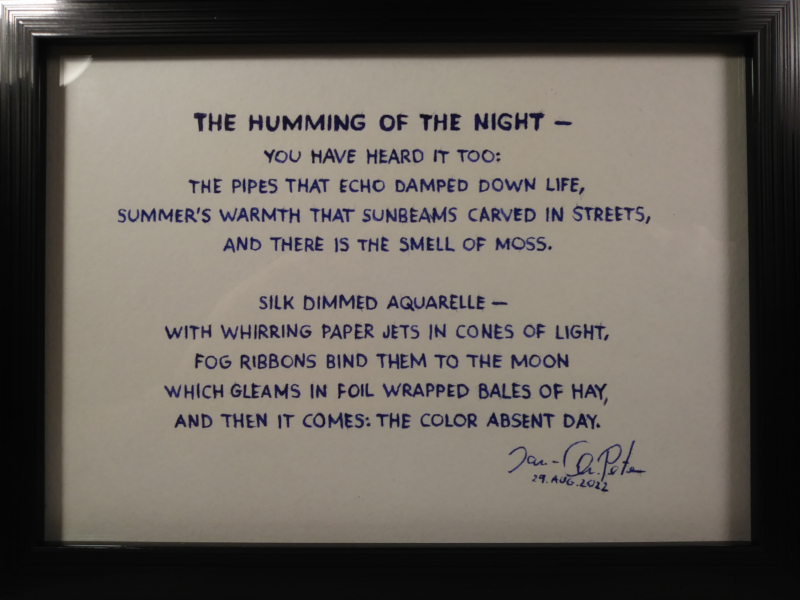 The Humming of the Night
This poem in English is also available in the poetry shop as a handwritten copy. Enjoy!
Digital Art for Liberation Day, May 8, 2022
With an ongoing war in the Ukraine, May 8 became more significant to us. I called for creating digital art. Now the works are shown. On Liberation Day 2022, people encounter what they have experienced in past and present. Visit the exhibition on humini.de in German or English.
In 2021, Felix Adler would have turned 170
(download pdf) The son of a German rabbi in New York moved beyond Reform Judaism and founded the Ethical Culture movement. Adler's Ethical Culture has had an impact on Europe too and still inspires one of the most enduring humanist communities in the US.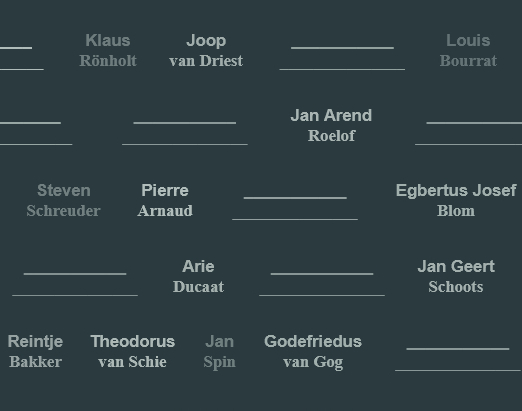 E-Poetry for Holocaust Remembrance Day
(Jan 27, 2022) The e-poem »297 Names« is dedicated to the victims of the Husum-Schwesing concentration camp. What is e-poetry? And what does e-poetry mean for the Culture of Remembrance?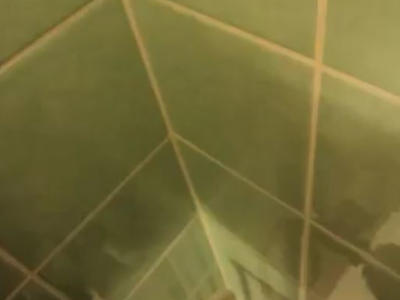 prosaic poem – Cracks
He was sitting, but he wasn't sitting still. He never sat still. His breathing—the rising and falling of his chest—led to imperceptible folds in the fabric of the armchair. Lint was surging under his eyes as a gentle draught wound through the room.
[…]