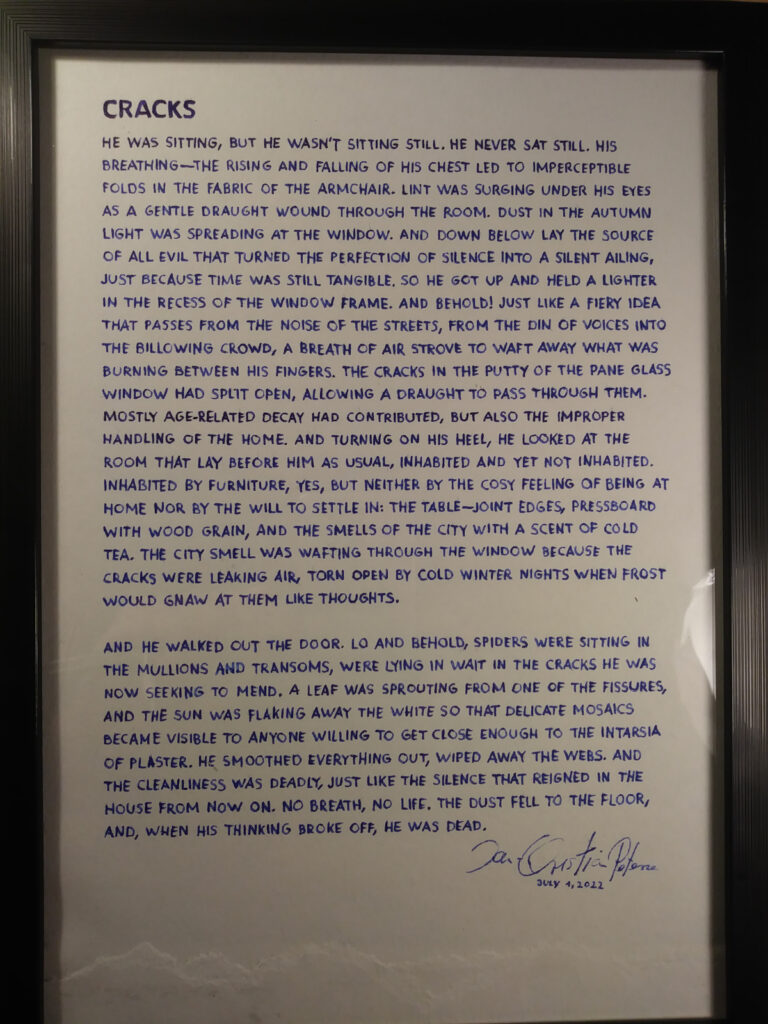 Cracks / Fugen

Listen to Fugen on YouTube (in German)
He was sitting, but he wasn't sitting still. He never sat still. His breathing—the rising and falling of his chest led to imperceptible folds in the fabric of the armchair. Lint was surging under his eyes as a gentle draught wound through the room. Dust in the autumn light was spreading at the window. And down below lay the source of all evil that turned the perfection of silence into a silent ailing, just because time was still tangible. So he got up and held a lighter in the recess of the window frame. And behold! Just like a fiery idea that passes from the noise of the streets, from the din of voices into the billowing crowd, a breath of air strove to waft away what was burning between his fingers. The cracks in the putty of the pane glass window had split open, allowing a draught to pass through them. Mostly age-related decay had contributed, but also the improper handling of the home. And turning on his heel, he looked at the room that lay before him as usual, inhabited and yet not inhabited. Inhabited by furniture, yes, but neither by the cosy feeling of being at home nor by the will to settle in: the table—joint edges, pressboard with wood grain and the smells of the city with the scent of cold tea. The city smell was wafting through the window because the cracks were leaking air, torn open by cold winter nights when frost would gnaw at them like thoughts.
And he walked out the door. Lo and behold, spiders were sitting in the mullions and transoms, were lying in wait in the cracks he was now seeking to mend. A leaf was sprouting from one of the fissures, and the sun was flaking away the white so that delicate mosaics became visible to anyone willing to get close enough to the intarsia of plaster. He smoothed everything out, wiped away the webs. And the cleanliness was deadly, just like the silence that reigned in the house from now on. No breath, no life. The dust fell to the floor, and, when his thinking broke off, he was dead.
Jan-Christian Petersen (2020)
I thank Tora von Collani for the wonderful translation.